Managing Your Orders
The Orders section shows the sales order number, purchase order, date created, and ship-to account as sortable columns. You can also search for a specific order, PO, ISBN or UPC.
Types of filter dropdowns:
Document type: "All Documents" is the default. You may also choose to view only Invoices, Credit Memos, Credit Memos – Returns, or Debit Memos.
Time period. Past 270 days is the default. You can also select 30 or 60 days. To get information on orders or invoices more than 270 days old, contact Customer Service.
Accounts (if you have multiple accounts). All accounts shown is the default. You may choose to only see Invoices of a particular account.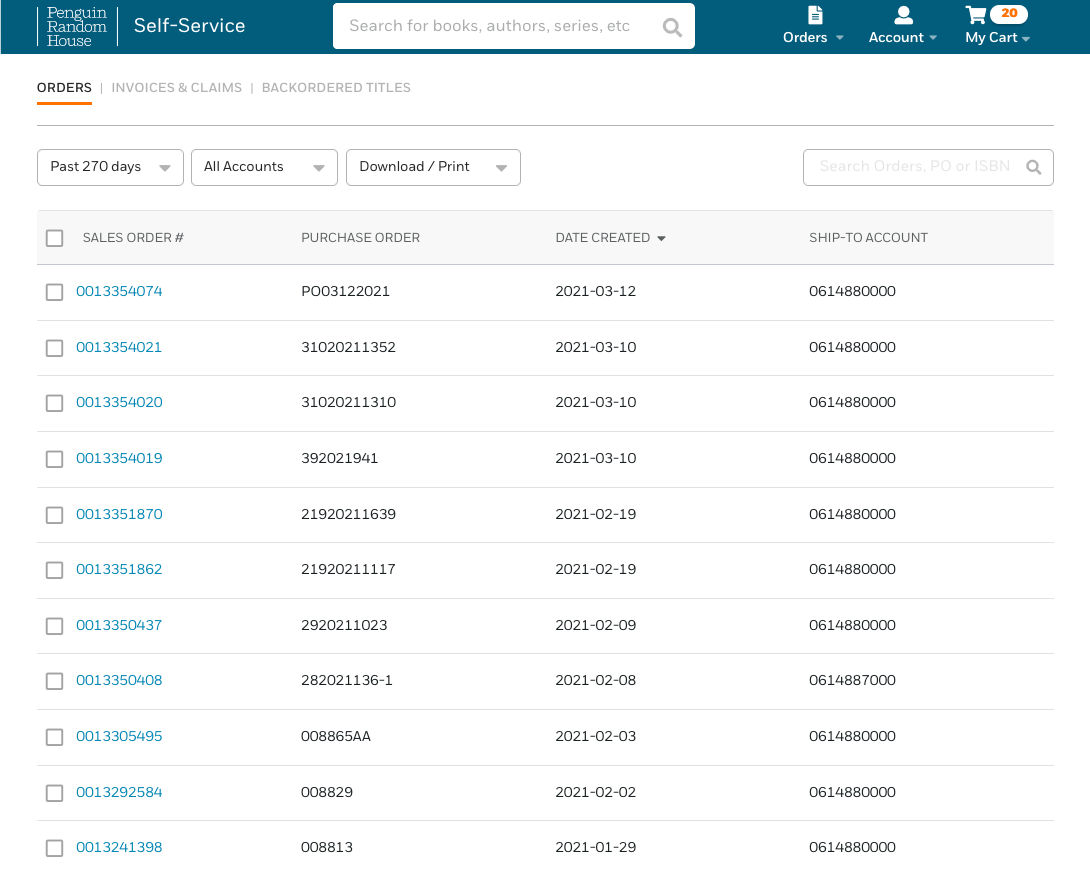 The default time period shown is the past 270 days, but you can also select 30 or 60 days. You can sort by any of the columns, and can also search for a specific order, PO, or ISBN.
If a user has multiple stores within their account and the access level to view all stores, the order view will by default include all stores. It's also possible to toggle among stores.
The download option provides a printer-friendly list or an Excel document.
Clicking on the Sales Order number will bring you to the Order Detail, with an option to print the document or export the data to Excel. This is where you can find order status (see list below), tracking information for your shipments, if available, as well as which warehouse they will ship from or have shipped from: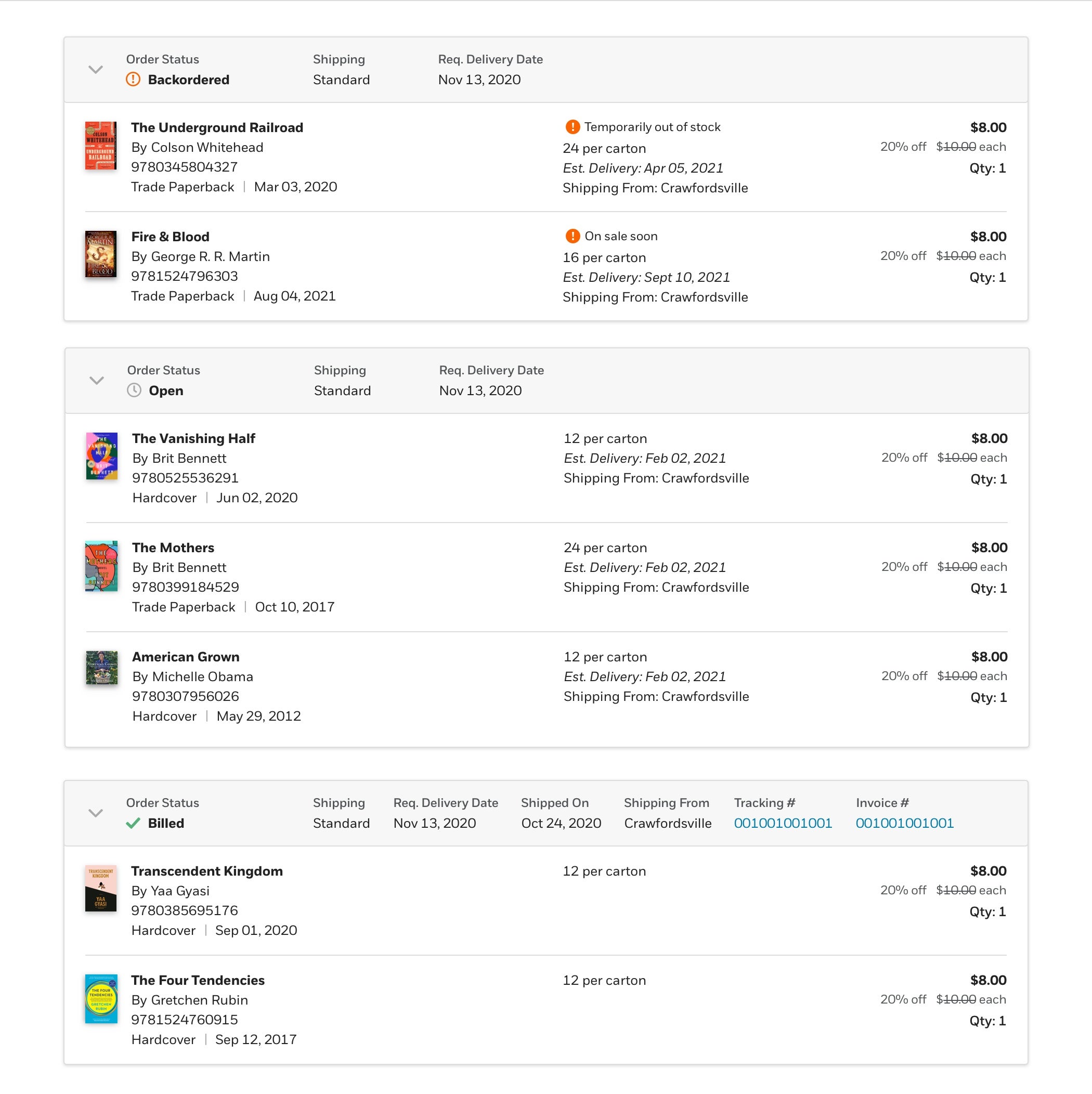 List of order statuses and their meaning:
Open: Stock is available and the line is eligible for shipping
Open not confirmed: Stock has not been confirmed
Billed: This has been invoiced and shipped
Canceled: The item has been canceled by PRH or the customer
In Progress: The items are being processed in our warehouse
Not Yet Published: A new title with a future on-sale date
Backordered: We are currently out of stock and these items will ship when stock is available
If your items are open or backordered, you can edit or cancel the order: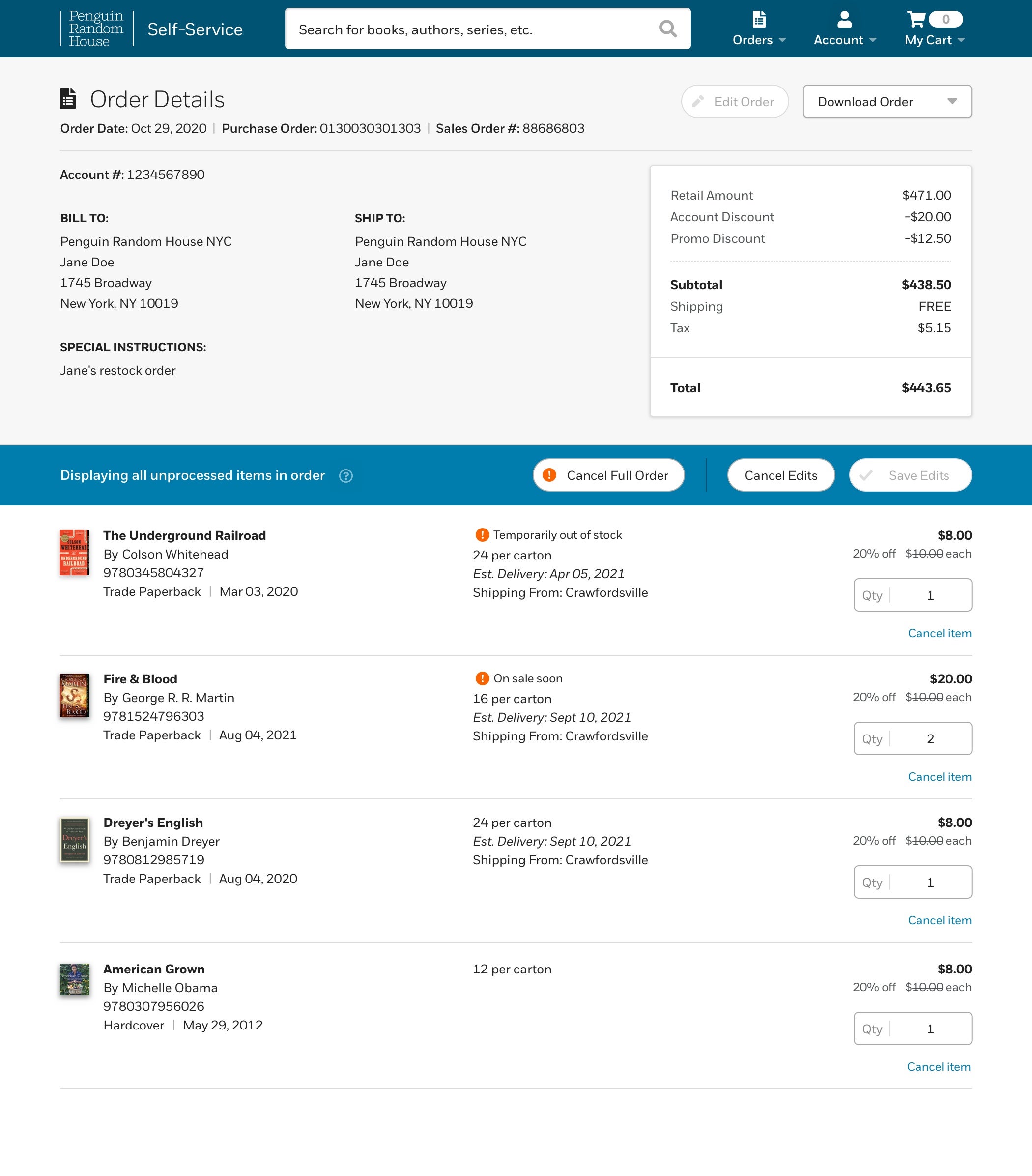 Note: Direct Market customers are currently not able to cancel or edit orders. If you have any questions please contact: cscomicmarket@penguinrandomhouse.com
Tracking Your Orders
Direct Market customers can track their orders from the self-service site. To find tracking information go to the Orders tab and enter the PO or Order Number from the invoice into the search bar.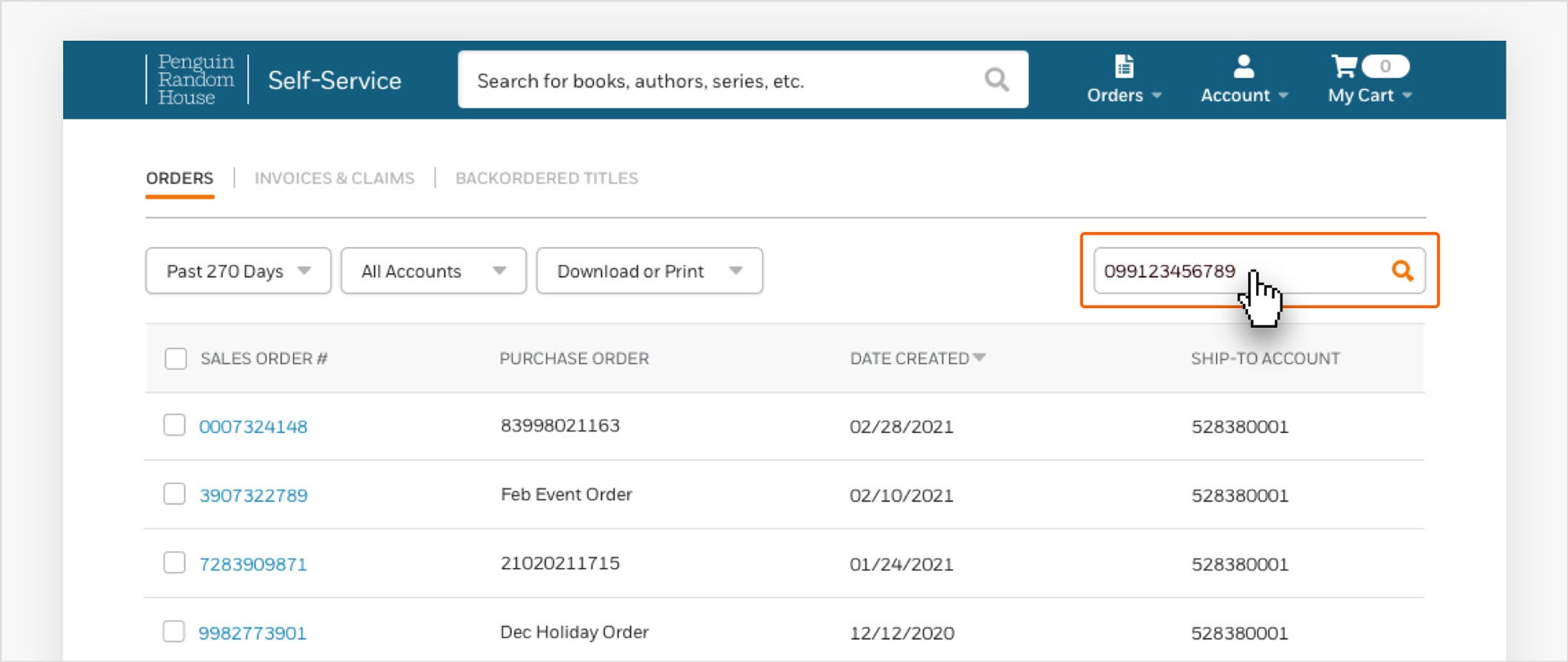 Click in the order to find tracking links.
*Please note that there can be multiple shipments in an order so you may need to know the items you are look for to track.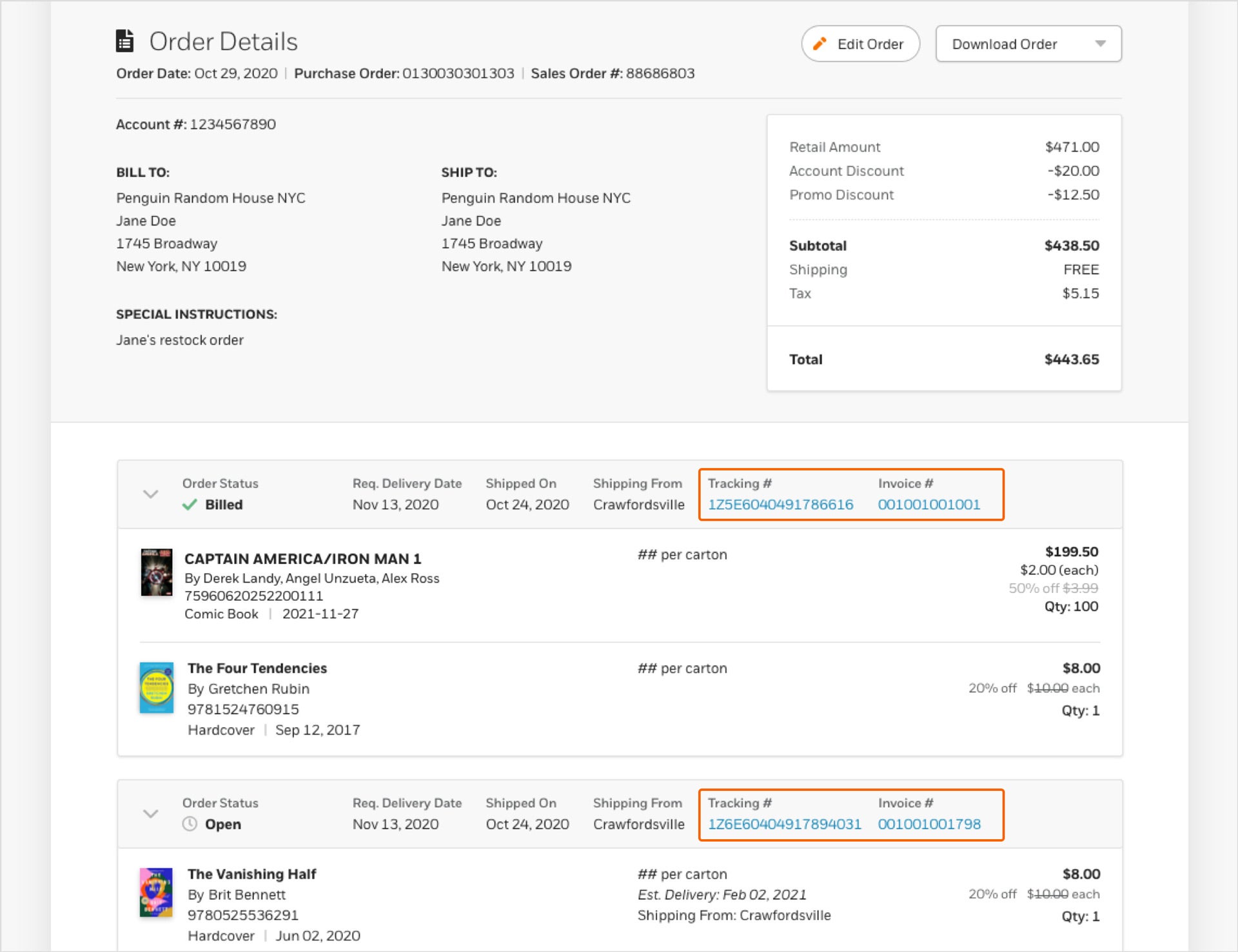 Alternatively, you can go into the order using the UPC of the title you want to find tracking for. Follow the same steps as above but search by UPC instead of PO or Order Number. All orders that contain that UPC will appear in search results. If the title is on multiple orders, all orders will be listed.
ISBN/UPCs can also be taken from your Pre-Delivery Reports (PDRs) and entered in the search bar in the Orders tab.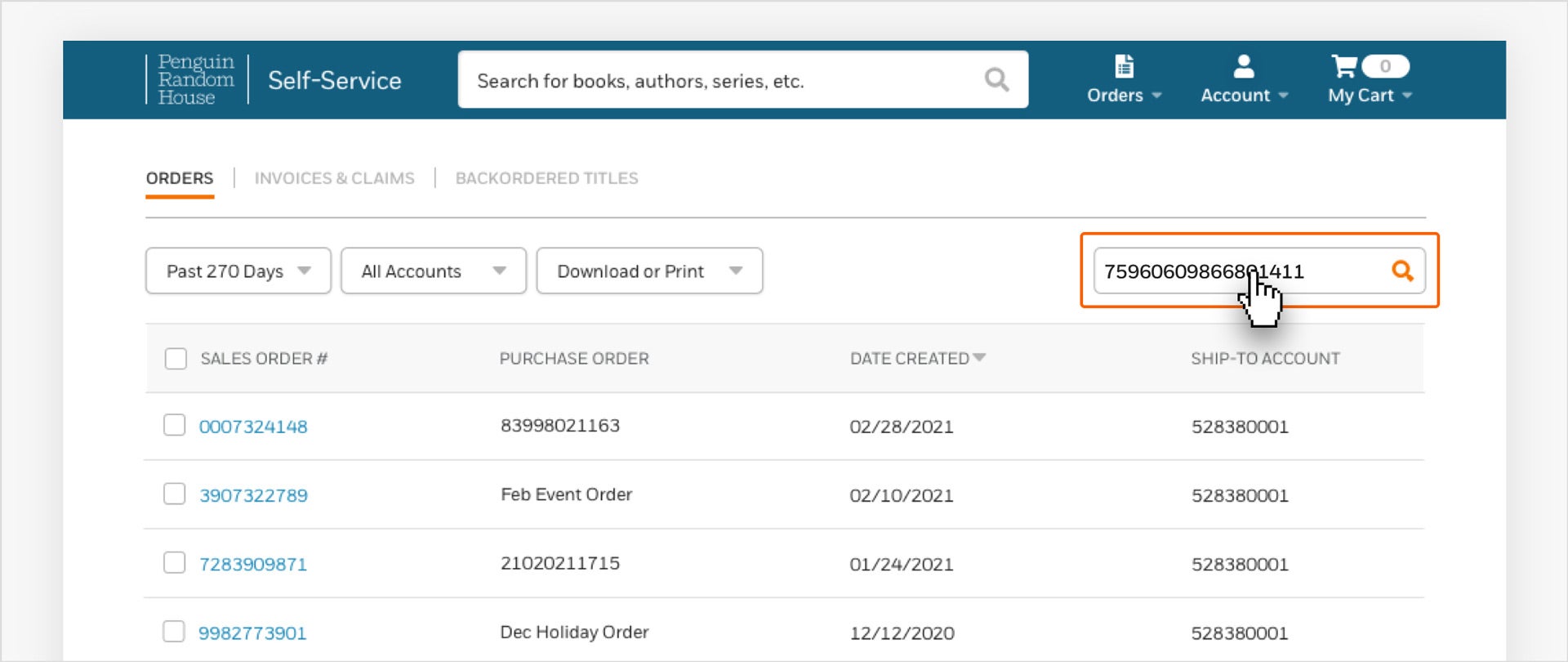 If you are in an invoice, you can click on either the Purchase Order or Sales Number link. These will take you to the Order Detail page where you can find the tracking link.